Do you want to stay in a pet-friendly boutique hotel with a pool, free breakfast and a gym without any hidden fees in the final price? After this short tutorial, you'll be able to find exactly what you're after, in the area you want to stay and with a transparent understanding of your total costs.
Step 1: Stars and Scores
Perhaps you're a budget traveller, perhaps a luxury traveller, or perhaps you want as much luxury as possible while on a budget.
Select your Stars: Ok, the stars filter is obvious. Select the minimum number of stars you want and we will show you all of the accommodation available for your minimum number of stars or above.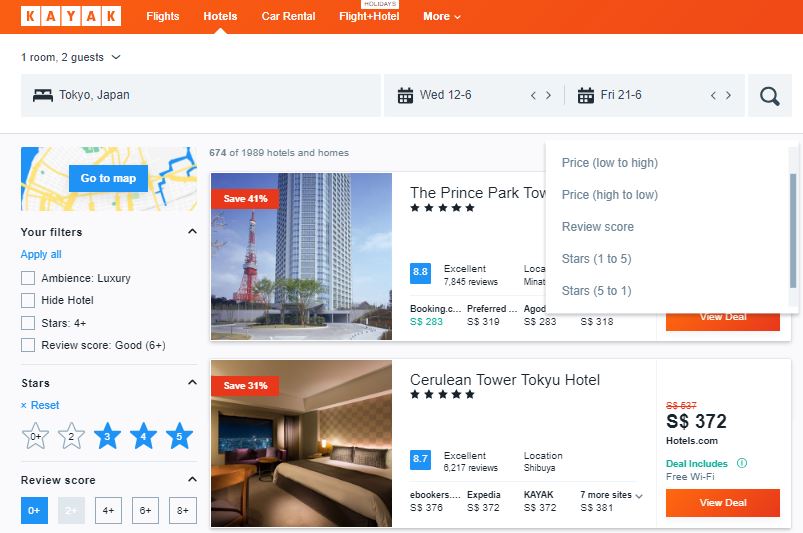 Filter by verified reviews: This is where things get good. Directly below the stars filter is the 'Review score' filter. Using verified customer reviews, you can gain insight into accommodation that has been rated by the users that have actually stayed there. Some examples of what this allows you to see are:
Example:
A particular guest house that has 2-stars and only costs $10 a night has been rated 'OK' – so while it's not going to be fancy by any stretch, previous guests will let you know what to expect (e.g. basic but clean) and if you are backpacking on a super-tight budget perhaps this is the perfect place for you
If you find two hotels that are both centrally located, 3-stars and exactly the same price per night, then how do you make your choice? Looking at the average reviews, one hotel has been rated 'Excellent' rather than just 'Good'. It sounds like your choice has been made for you.
On the flipside, if you are shelling out for a 5-star luxury hotel you definitely want to check that the other people were happy with their experience; so you can check that the beds were comfy, the food extraordinary and the pool was exquisite before pressing the Book Now button yourself.
Of course, you can't keep all the people happy all the time, but these reviews give you a unique and unbiased view allowing you to find the accommodation that is right for you.
Step 2: Prices and Taxes
While all the filters are super useful, this might just be the crème de la crème. The only thing worse than finding the perfect place for you to stay, clicking all the way through until you reach the payment page, only to be surprised with hidden fees or unknown city taxes, is being hit with these same fees and taxes upon checkout. Our lovely drop-down menu lets you choose how you want to see the costs while you browse.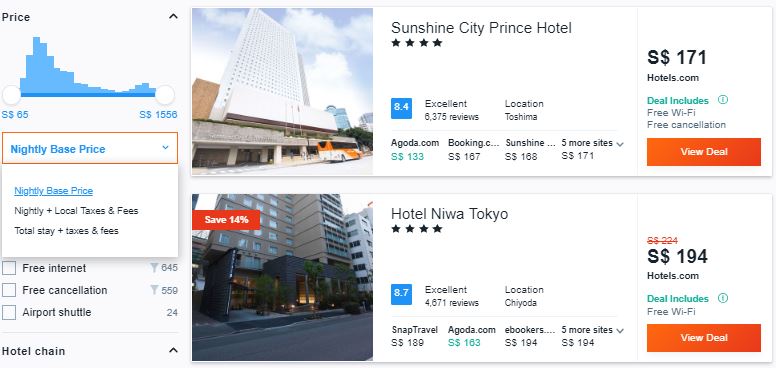 If you're planning three nights in Bali, simply select the 'Total Stay + Taxes & Fees' option and you'll be shown the total price for your stay including extras like city taxes and hotel fees. No more nasty surprises!
There's even a price bar available, so you don't have to sort through accommodation outside of your budget. Simply move the sliders to adjust and maximum and minimum price so you don't have to wade through places outside your chosen budget.
Step 3: Freebies and Filters
Who doesn't love free stuff? If you want to find a place to rest your head that has a free space for your car or WiFi on the house so you can add your #FreeBreakfast picture to your Instagram, simply select which Freebies you want to have and we'll show you the hotels that match.

Let's look at specifics. While many people would rate price, quality and freebies as among the most important elements when booking their hotels, just as many have much more specific wants and needs. At the top of the column simply click 'More' and you'll be able to filter further by Amenities, Ambience and Property type. This means you can filter by hotels that are accessible and have facilities for wheelchair users, that will let you bring your four-legged friends with you, that are eco-friendly etc.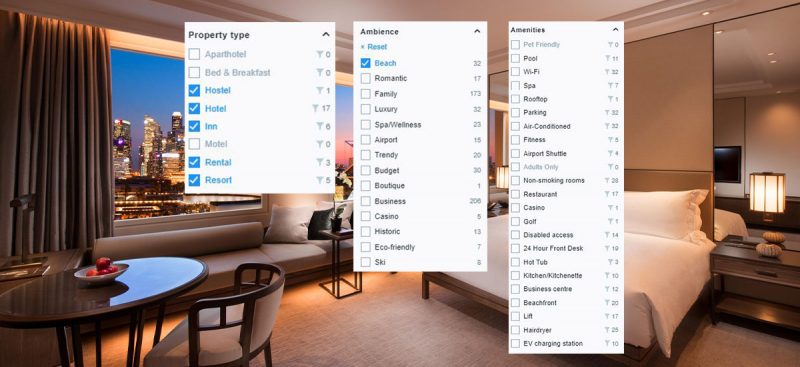 Step 4: Location, Location, Location
Find the part of the city that suits you best.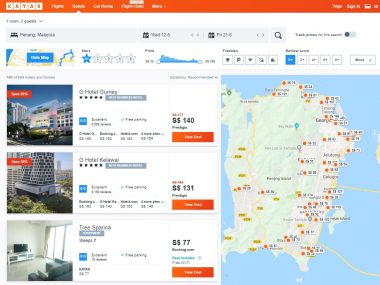 Most of the time when you are visiting a city you aren't going in completely blind; you've been there before, have done some research or maybe you're on a business trip and need proximity to somewhere specific. So, you have an idea of where you want to stay. And that's exactly what the Location and Neighbourhood filters are for. Select from a city's best-known neighbourhoods – Gangnam style, here I come! – or simply add the radius from the city centre that you're willing to stay (another great way to save money is staying slightly outside of the centre but on a transport line).
But if you care more about what you do, rather than where you are, then Heatmaps is your friend.
 Step 5: Heat Maps
Click on Go To Map and open KAYAK Heatmaps.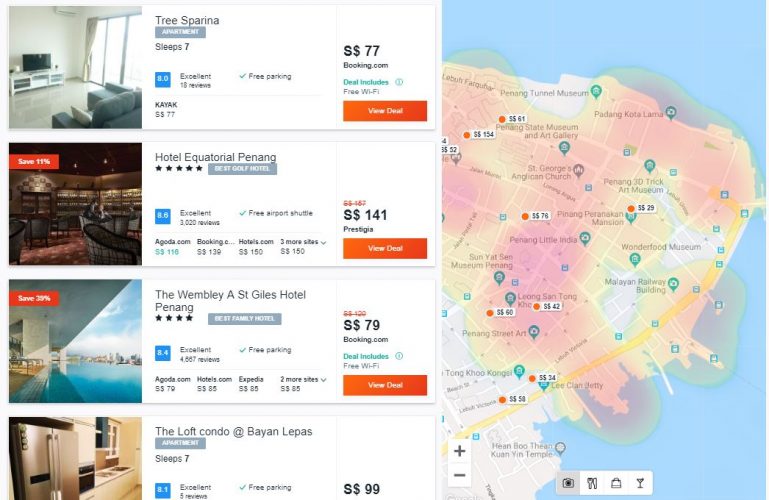 The interactive map shows you all the hotels in the city (matched to any previous filters you've selected of course). Hands down, the coolest feature in this view is the Popular Areas section. Here you can select your top interests by Eating, Sightseeing, Shopping or Nightlife and the responsive map will show you the densest and hippest areas based on your choice through a heat imprint. The darker the red the hotter the region, the hotter the region, the more it matches your tastes!
Finding the perfect hotel doesn't have to be stressful, travel smart with the KAYAK filters and you'll be on your way to your perfect place in no time.  Have fun booking your eco-friendly, boutique hotel for under $70 (incl. Taxes & Fees) a night, in the best spot for nightlife in Melbourne. Or whatever floats your boat, the possibilities are endless.
Also Read: These handy tools are your tickets to finding cheap flights
Note: These rates are based on search queries made on KAYAK.sg on September 18, 2017. The prices are quoted in SGD. Hotel prices are for double occupancy and include taxes and fees. Prices are subject to change, may vary, or no longer be available.