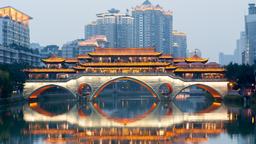 Chengdu car rentals
Search hundreds of travel sites at once for car rental deals in Chengdu
Chengdu car rental information
| | |
| --- | --- |
| Pick-up location | Chengdu |
| Rental locations | 28 |
| Airport locations | 8 |
Chengdu car rental reviews and directory
Avis

Avis
Locations in Chengdu
1 Block, 40 Rangdeng Temple Rd
+86 288 555 2772
| | |
| --- | --- |
| Monday | 09:00 - 18:00 |
| Tuesday | 09:00 - 18:00 |
| Wednesday | 09:00 - 18:00 |
| Thursday | 09:00 - 18:00 |
| Friday | 09:00 - 18:00 |
| Saturday | 09:00 - 18:00 |
| Sunday | 09:00 - 18:00 |
38A-No.68 Qionglaishan Rd
+86 286 426 7166
| | |
| --- | --- |
| Monday | 09:00 - 21:00 |
| Tuesday | 09:00 - 21:00 |
| Wednesday | 09:00 - 21:00 |
| Thursday | 09:00 - 21:00 |
| Friday | 09:00 - 21:00 |
| Saturday | 09:00 - 21:00 |
| Sunday | 09:00 - 21:00 |
5 Block,Century Lily Biz Plz
+86 288 555 2772
| | |
| --- | --- |
| Monday | 09:00 - 18:00 |
| Tuesday | 09:00 - 18:00 |
| Wednesday | 09:00 - 18:00 |
| Thursday | 09:00 - 18:00 |
| Friday | 09:00 - 18:00 |
| Saturday | 09:00 - 18:00 |
| Sunday | 09:00 - 18:00 |
Chengdu Zhonghang Inter Plz Po
+86 288 555 2772
| | |
| --- | --- |
| Monday | 09:00 - 18:00 |
| Tuesday | 09:00 - 18:00 |
| Wednesday | 09:00 - 18:00 |
| Thursday | 09:00 - 18:00 |
| Friday | 09:00 - 18:00 |
| Saturday | 09:00 - 18:00 |
| Sunday | 09:00 - 18:00 |
East Station Parking Lot (Meet & Greet)
+86 288 555 1030
| | |
| --- | --- |
| Monday | 09:00 - 21:00 |
| Tuesday | 09:00 - 21:00 |
| Wednesday | 09:00 - 21:00 |
| Thursday | 09:00 - 21:00 |
| Friday | 09:00 - 21:00 |
| Saturday | 09:00 - 21:00 |
| Sunday | 09:00 - 21:00 |
Longteng Rd No.36
+86 288 555 2772
| | |
| --- | --- |
| Monday | 08:30 - 17:00 |
| Tuesday | 08:30 - 17:00 |
| Wednesday | 08:30 - 17:00 |
| Thursday | 08:30 - 17:00 |
| Friday | 08:30 - 17:00 |
| Saturday | 08:30 - 17:00 |
| Sunday | 08:30 - 17:00 |
N0.278-280 Hongpailou Road
+86 288 555 2772
| | |
| --- | --- |
| Monday | 09:00 - 18:00 |
| Tuesday | 09:00 - 18:00 |
| Wednesday | 09:00 - 18:00 |
| Thursday | 09:00 - 18:00 |
| Friday | 09:00 - 18:00 |
| Saturday | 09:00 - 18:00 |
| Sunday | 09:00 - 18:00 |
No. 17 Chenghuiyi St
+86 288 555 1030
| | |
| --- | --- |
| Monday | 09:00 - 18:00 |
| Tuesday | 09:00 - 18:00 |
| Wednesday | 09:00 - 18:00 |
| Thursday | 09:00 - 18:00 |
| Friday | 09:00 - 18:00 |
| Saturday | 09:00 - 18:00 |
| Sunday | 09:00 - 18:00 |
No. 282 Port Rd, Airharbour
+86 181 9083 7871
| | |
| --- | --- |
| Monday | 09:00 - 21:00 |
| Tuesday | 09:00 - 21:00 |
| Wednesday | 09:00 - 21:00 |
| Thursday | 09:00 - 21:00 |
| Friday | 09:00 - 21:00 |
| Saturday | 09:00 - 21:00 |
| Sunday | 09:00 - 21:00 |
No.1 Beisen North Road
+86 288 555 2772
| | |
| --- | --- |
| Monday | 09:00 - 18:00 |
| Tuesday | 09:00 - 18:00 |
| Wednesday | 09:00 - 18:00 |
| Thursday | 09:00 - 18:00 |
| Friday | 09:00 - 18:00 |
| Saturday | 09:00 - 18:00 |
| Sunday | 09:00 - 18:00 |
No.26 East Gaopan Road
+86 288 555 2772
| | |
| --- | --- |
| Monday | 09:00 - 21:00 |
| Tuesday | 09:00 - 21:00 |
| Wednesday | 09:00 - 21:00 |
| Thursday | 09:00 - 21:00 |
| Friday | 09:00 - 21:00 |
| Saturday | 09:00 - 21:00 |
| Sunday | 09:00 - 21:00 |
No.31 Zongfu Road
+86 288 555 2772
| | |
| --- | --- |
| Monday | 08:30 - 18:00 |
| Tuesday | 08:30 - 18:00 |
| Wednesday | 08:30 - 18:00 |
| Thursday | 08:30 - 18:00 |
| Friday | 08:30 - 18:00 |
| Saturday | 08:30 - 18:00 |
| Sunday | 08:30 - 18:00 |
No.35 Zidonglouduan East Str
+86 288 555 2772
| | |
| --- | --- |
| Monday | 09:00 - 18:00 |
| Tuesday | 09:00 - 18:00 |
| Wednesday | 09:00 - 18:00 |
| Thursday | 09:00 - 18:00 |
| Friday | 09:00 - 18:00 |
| Saturday | 09:00 - 18:00 |
| Sunday | 09:00 - 18:00 |
No.365 Jiaozi Avenue
+86 288 536 0030
| | |
| --- | --- |
| Monday | 09:00 - 18:00 |
| Tuesday | 09:00 - 18:00 |
| Wednesday | 09:00 - 18:00 |
| Thursday | 09:00 - 18:00 |
| Friday | 09:00 - 18:00 |
| Saturday | 09:00 - 18:00 |
| Sunday | 09:00 - 18:00 |
No.9 Binjiang East Road
+86 288 555 2772
| | |
| --- | --- |
| Monday | 08:30 - 18:00 |
| Tuesday | 08:30 - 18:00 |
| Wednesday | 08:30 - 18:00 |
| Thursday | 08:30 - 18:00 |
| Friday | 08:30 - 18:00 |
| Saturday | 08:30 - 18:00 |
| Sunday | 08:30 - 18:00 |
No.9 Jianshen Road
+86 288 555 2772
| | |
| --- | --- |
| Monday | 08:30 - 18:00 |
| Tuesday | 08:30 - 18:00 |
| Wednesday | 08:30 - 18:00 |
| Thursday | 08:30 - 18:00 |
| Friday | 08:30 - 18:00 |
| Saturday | 08:30 - 18:00 |
| Sunday | 08:30 - 18:00 |
North Railway Station Parking
+86 288 555 1030
| | |
| --- | --- |
| Monday | 08:30 - 17:00 |
| Tuesday | 08:30 - 17:00 |
| Wednesday | 08:30 - 17:00 |
| Thursday | 08:30 - 17:00 |
| Friday | 08:30 - 17:00 |
| Saturday | 08:30 - 17:00 |
| Sunday | 08:30 - 17:00 |
Parking Lot, Ctu T1
+86 288 589 5078
| | |
| --- | --- |
| Monday | 09:00 - 21:00 |
| Tuesday | 09:00 - 21:00 |
| Wednesday | 09:00 - 21:00 |
| Thursday | 09:00 - 21:00 |
| Friday | 09:00 - 21:00 |
| Saturday | 09:00 - 21:00 |
| Sunday | 09:00 - 21:00 |
Parking Lot, Ctu T2
+86 288 589 5078
| | |
| --- | --- |
| Monday | 09:00 - 21:00 |
| Tuesday | 09:00 - 21:00 |
| Wednesday | 09:00 - 21:00 |
| Thursday | 09:00 - 21:00 |
| Friday | 09:00 - 21:00 |
| Saturday | 09:00 - 21:00 |
| Sunday | 09:00 - 21:00 |
Hertz

Hertz
Locations in Chengdu
Chungdu
+86 288 557 0617
| | |
| --- | --- |
| Monday | 00:00 - 23:59 |
| Tuesday | 00:00 - 23:59 |
| Wednesday | 00:00 - 23:59 |
| Thursday | 00:00 - 23:59 |
| Friday | 00:00 - 23:59 |
| Saturday | 00:00 - 23:59 |
| Sunday | 00:00 - 23:59 |
Shuangliu Nav Hub Rd 700 Fuyan
+86 288 561 1131
| | |
| --- | --- |
| Monday | 00:00 - 23:59 |
| Tuesday | 00:00 - 23:59 |
| Wednesday | 00:00 - 23:59 |
| Thursday | 00:00 - 23:59 |
| Friday | 00:00 - 23:59 |
| Saturday | 00:00 - 23:59 |
| Sunday | 00:00 - 23:59 |
U 16 Yueguangliuyu Plot Guangf
+86 189 8073 9108
| | |
| --- | --- |
| Monday | 08:00 - 21:00 |
| Tuesday | 08:00 - 21:00 |
| Wednesday | 08:00 - 21:00 |
| Thursday | 08:00 - 21:00 |
| Friday | 08:00 - 21:00 |
| Saturday | 08:00 - 21:00 |
| Sunday | 08:00 - 21:00 |
Unit 1402, Jinjiang Intl Bldin
+86 288 557 0617
| | |
| --- | --- |
| Monday | 00:00 - 23:59 |
| Tuesday | 00:00 - 23:59 |
| Wednesday | 00:00 - 23:59 |
| Thursday | 00:00 - 23:59 |
| Friday | 00:00 - 23:59 |
| Saturday | 00:00 - 23:59 |
| Sunday | 00:00 - 23:59 |
Xijin Intl,56n.huapaifang Rd
+86 181 1659 1617
| | |
| --- | --- |
| Monday | 08:00 - 21:00 |
| Tuesday | 08:00 - 21:00 |
| Wednesday | 08:00 - 21:00 |
| Thursday | 08:00 - 21:00 |
| Friday | 08:00 - 21:00 |
| Saturday | 08:00 - 21:00 |
| Sunday | 08:00 - 21:00 |
Ehi

Meet and Greet service, off airport pickup
+86 286 845 8332
Europcar

Europcar
Locations in Chengdu
Luomanxing Cheng,n.88
+86 136 3212 3035
keddy by Europcar

keddy by Europcar
Locations in Chengdu
88 Mid 2 Xihanggang Avenue, Shuangliu County Chengdu
Tongye

Tongye
Locations in Chengdu
Car rental locations in or near Chengdu
Good to know
| | |
| --- | --- |
| Most popular car type | Compact |
When to book a rental car in Chengdu
Car hire prices as pick-up date approaches
Top tips for renting a car in Chengdu
Book your rental car in Chengdu at least 1 week before your trip in order to get a below-average price
FAQs about renting a car in Chengdu
What is the most popular rental car in Chengdu?
Compact (Class Compact car or similar) is the most frequently booked rental car type in Chengdu.
How can I find car rentals near me in Chengdu?
Take a look at our extensive car rental location map to find the best rental cars near you.
How much does a Compact car rental cost in Chengdu?
A Compact car rental in Chengdu costs S$ 91 per day, on average.