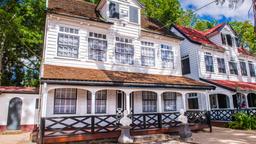 Paramaribo car rentals
Search hundreds of travel sites at once for car rental deals in Paramaribo
Paramaribo car rental information
| | |
| --- | --- |
| Pick-up location | Paramaribo |
| Rental locations | 28 |
| Airport locations | 12 |
Paramaribo car rental reviews and directory
Avis

4 locations in Paramaribo
Avis
Locations in Paramaribo
Anton Dragtenweg 52-54
+597 457 159
Monday
08:00 - 12:00
12:30 - 16:00
Tuesday
08:00 - 12:00
12:30 - 16:00
Wednesday
08:00 - 12:00
12:30 - 16:00
Thursday
08:00 - 12:00
12:30 - 16:00
Friday
08:00 - 12:00
12:30 - 16:00
Saturday
Sunday
08:00 - 12:00
Kristal St. #1, Ma Retraite IV
+597 551 158
| | |
| --- | --- |
| Monday | 08:00 - 16:00 |
| Tuesday | 08:00 - 16:00 |
| Wednesday | 08:00 - 16:00 |
| Thursday | 08:00 - 16:00 |
| Friday | 08:00 - 16:00 |
| Saturday | |
| Sunday | |
Luchthavenlaan 1
+597 551 158
| | |
| --- | --- |
| Monday | 00:00 - 23:59 |
| Tuesday | 00:00 - 23:59 |
| Wednesday | 00:00 - 23:59 |
| Thursday | 00:00 - 23:59 |
| Friday | 00:00 - 23:59 |
| Saturday | 00:00 - 23:59 |
| Sunday | 00:00 - 23:59 |
Rietbergplein #1
+597 421 567
| | |
| --- | --- |
| Monday | 08:00 - 16:00 |
| Tuesday | 08:00 - 16:00 |
| Wednesday | 08:00 - 16:00 |
| Thursday | 08:00 - 16:00 |
| Friday | 08:00 - 16:00 |
| Saturday | |
| Sunday | 08:00 - 12:00 |
Sunnycars

4 locations in Paramaribo
Sunnycars
Locations in Paramaribo
Budget

3 locations in Paramaribo
Budget
Locations in Paramaribo
Kristalstraat #1
+597 450 447
| | |
| --- | --- |
| Monday | 08:00 - 16:00 |
| Tuesday | 08:00 - 16:00 |
| Wednesday | 08:00 - 16:00 |
| Thursday | 08:00 - 16:00 |
| Friday | 08:00 - 16:00 |
| Saturday | |
| Sunday | |
Rietbergplein #1
+597 473 686
| | |
| --- | --- |
| Monday | 08:00 - 16:00 |
| Tuesday | 08:00 - 16:00 |
| Wednesday | 08:00 - 16:00 |
| Thursday | 08:00 - 16:00 |
| Friday | 08:00 - 16:00 |
| Saturday | 08:00 - 12:00 |
| Sunday | |
Zanderij
+597 457 363
| | |
| --- | --- |
| Monday | 00:00 - 23:59 |
| Tuesday | 00:00 - 23:59 |
| Wednesday | 00:00 - 23:59 |
| Thursday | 00:00 - 23:59 |
| Friday | 00:00 - 23:59 |
| Saturday | 00:00 - 23:59 |
| Sunday | 00:00 - 23:59 |
Europcar

3 locations in Paramaribo
Europcar
Locations in Paramaribo
Doekhieweg 3
+597 424 785
Kleine Waterstraat 1
+597 424 631
Meet And Greet Location
+597 424 785
Alamo

Alamo
Locations in Paramaribo
49 Anton Dragtenweg
+597 455 498
| | |
| --- | --- |
| Monday | 08:00 - 16:30 |
| Tuesday | 08:00 - 16:30 |
| Wednesday | 08:00 - 16:30 |
| Thursday | 08:00 - 16:30 |
| Friday | 08:00 - 16:30 |
| Saturday | 08:00 - 16:30 |
| Sunday | 08:00 - 16:30 |
Suriname Intl Airport
+597 860 1101
| | |
| --- | --- |
| Monday | 00:00 - 23:59 |
| Tuesday | 00:00 - 23:59 |
| Wednesday | 00:00 - 23:59 |
| Thursday | 00:00 - 23:59 |
| Friday | 00:00 - 23:59 |
| Saturday | 00:00 - 23:59 |
| Sunday | 00:00 - 23:59 |
Enterprise

Enterprise
Locations in Paramaribo
49 Anton Dragtenweg
+597 455 498
| | |
| --- | --- |
| Monday | 08:00 - 16:30 |
| Tuesday | 08:00 - 16:30 |
| Wednesday | 08:00 - 16:30 |
| Thursday | 08:00 - 16:30 |
| Friday | 08:00 - 16:30 |
| Saturday | 08:00 - 16:30 |
| Sunday | 08:00 - 16:30 |
Suriname Intl Airport
+597 860 1101
| | |
| --- | --- |
| Monday | 00:00 - 23:59 |
| Tuesday | 00:00 - 23:59 |
| Wednesday | 00:00 - 23:59 |
| Thursday | 00:00 - 23:59 |
| Friday | 00:00 - 23:59 |
| Saturday | 00:00 - 23:59 |
| Sunday | 00:00 - 23:59 |
keddy by Europcar

keddy by Europcar
Locations in Paramaribo
Kleine Waterstraat 1- Hotel Zeelandia Suites
Meet & Greet // Served By Pbmr01-->- See Stn Message For More Details
National

National
Locations in Paramaribo
49 Anton Dragtenweg
+597 455 498
| | |
| --- | --- |
| Monday | 08:00 - 16:30 |
| Tuesday | 08:00 - 16:30 |
| Wednesday | 08:00 - 16:30 |
| Thursday | 08:00 - 16:30 |
| Friday | 08:00 - 16:30 |
| Saturday | 08:00 - 16:30 |
| Sunday | 08:00 - 16:30 |
Suriname Intl Airport
+597 860 1101
| | |
| --- | --- |
| Monday | 00:00 - 23:59 |
| Tuesday | 00:00 - 23:59 |
| Wednesday | 00:00 - 23:59 |
| Thursday | 00:00 - 23:59 |
| Friday | 00:00 - 23:59 |
| Saturday | 00:00 - 23:59 |
| Sunday | 00:00 - 23:59 |
NU Car

NU Car
Locations in Paramaribo
Kwattttaweg 264
+597 465 900
| | |
| --- | --- |
| Monday | 08:00 - 16:30 |
| Tuesday | 08:00 - 16:30 |
| Wednesday | 08:00 - 16:30 |
| Thursday | 08:00 - 16:30 |
| Friday | 08:00 - 16:30 |
| Saturday | 08:00 - 16:30 |
| Sunday | 08:00 - 16:30 |
Luchthavenlaan 1
+597 465 900
| | |
| --- | --- |
| Monday | 08:00 - 16:30 |
| Tuesday | 08:00 - 16:30 |
| Wednesday | 08:00 - 16:30 |
| Thursday | 08:00 - 16:30 |
| Friday | 08:00 - 16:30 |
| Saturday | 08:00 - 16:30 |
| Sunday | 08:00 - 16:30 |
Ross Rental Cars

Ross Rental Cars
Locations in Paramaribo
Economy Rent a Car

Economy Rent a Car
Locations in Paramaribo
Suriname International Airport
+597 432 200
Hertz

Hertz
Locations in Paramaribo
Van't Hogerhuysstraat 23
+597 400 409
| | |
| --- | --- |
| Monday | 08:00 - 17:00 |
| Tuesday | 08:00 - 17:00 |
| Wednesday | 08:00 - 17:00 |
| Thursday | 08:00 - 17:00 |
| Friday | 08:00 - 17:00 |
| Saturday | 08:00 - 13:00 |
| Sunday | |
Car rental locations in or near Paramaribo
When to book a rental car in Paramaribo
Average daily price per month
Car hire prices as pick-up date approaches
Top tips for renting a car in Paramaribo
Book your rental car in Paramaribo at least 1 week before your trip in order to get a below-average price
FAQs about renting a car in Paramaribo
What is the best rental car company in Paramaribo?
Based on ratings and reviews from real users on KAYAK, the best car rental company in Paramaribo is Hertz (6.8, 1 reviews).
How can I find car rentals near me in Paramaribo?
Take a look at our extensive car rental location map to find the best rental cars near you.