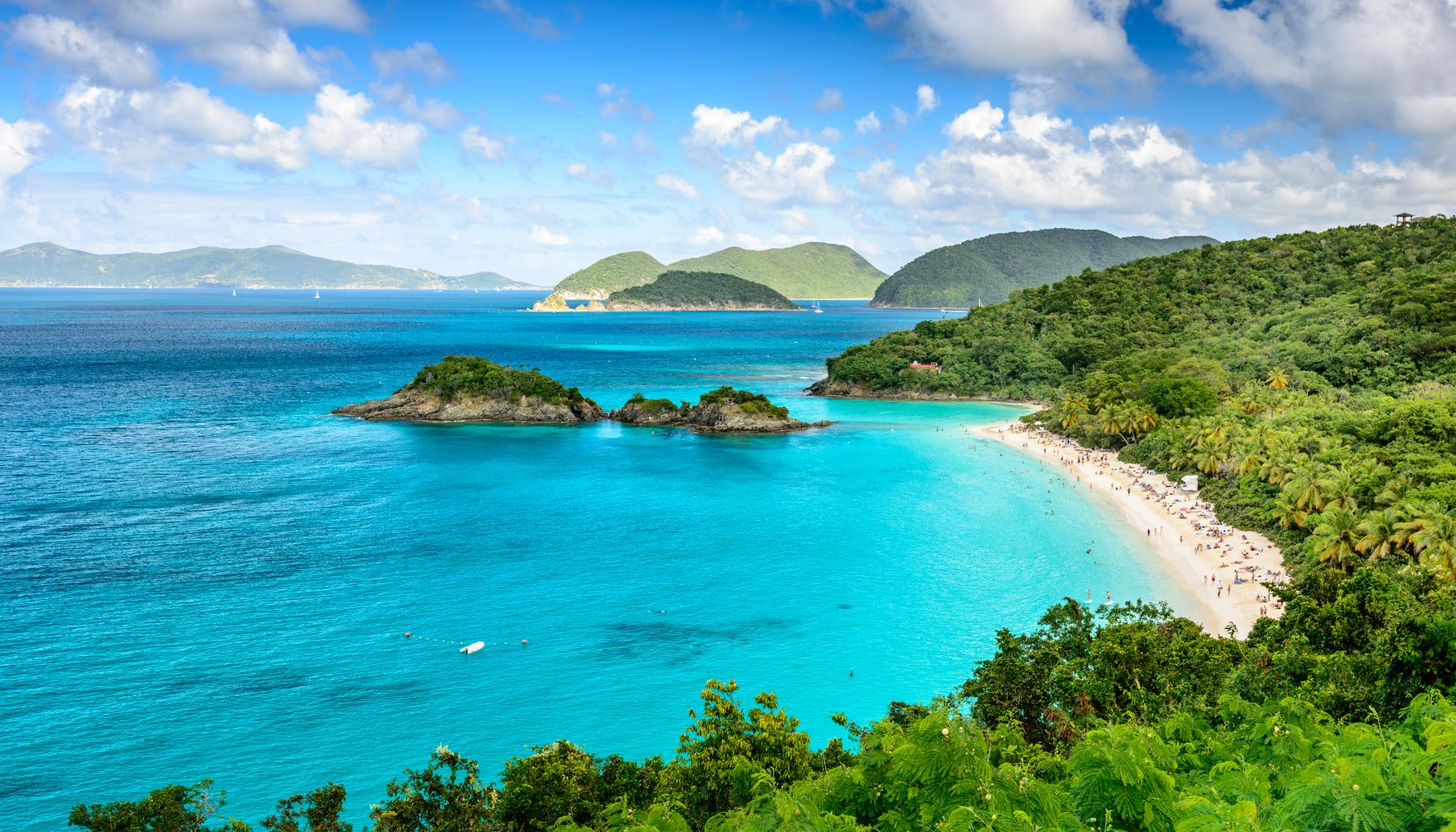 You're Going to Love Cruz Bay
Cruz Bay on St. John attracts tourists and boat charters drawn to the snorkeling, scuba diving, kayaking, and hiking, as well as the local shops, restaurants, and casino.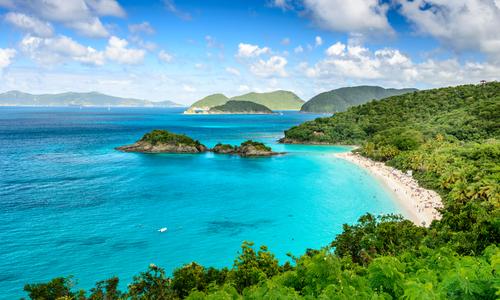 Cruz Bay has no airport; therefore, most visitors access the island by boat or ferry from nearby St. Thomas, St. Croix, Jost Van Dyke, Tortola, and Virgin Gorda.
Top 5 Reasons to Visit Cruz Bay
1. The Water
The crystalline waters of Cruz Bay bring avid snorkelers and scuba divers seduced by the white sand beaches and coral reefs.
2. Dine on Local Fare
Conch fritters, fried mahi-mahi, and corn-crusted scallops are just a few of the island favorites.
3. The Bars
Perfect for a pub crawl, Cruz Bay has no shortage of bars. The Beach Bar features seaside seating and live music. Dog House Pub hosts karaoke and serves burgers and beer.
4. Explore the Ruins
Among the ruins of the 1780 Annaberg Plantation, you can still see the old slave quarters and windmill with breathtaking views of the Tortola and Jost Van Dyke islands.
5. Shop to Your Heart's Content
Main Street in Cruz Bay boasts duty free shopping with a selection of upscale retailers, such as Lladró, Waterford, and Rolex.
When to Visit Cruz Bay
There are no seasons in Cruz Bay, although June through August are the hottest months, with temperatures in the 80s. Tourists may want to avoid hurricane season from June to November.
How to Get to Cruz Bay
Plane
There is no airport in Cruz Bay. Flights arriving in the Virgin Islands land at the Henry E. Rohlsen Airport (STX) on St. Croix and Cyril E. King Airport (STT) on St. Thomas. Visitors can access Cruz Bay by ferry.
Car
Visitors may bring their cars to Cruz Bay by car barge. A one-way ticket is $35 and round trip is $50. There is a free parking lot next to the car barge.
Airports near Cruz Bay
Airlines serving Cruz Bay
Show more
Where to Stay in Cruz Bay
Concordia Eco-Resort features wood-framed eco-tents as well as traditional rooms. The Gallows Point Resort offers ocean views and all-inclusive packages.
Popular Neighborhoods in Cruz Bay
Cruz Bay - the Cruz Bay ferry dock is the point of entry for visitors and is home to the island's shops, restaurants, and watersports providers.
Chocolate Hole/Great Cruz Bay - nearby Chocolate Hole is home to dozens of vacation villas and the Westin Resort.
Coral Bay - Coral Bay features vacation villas and homes on the hill with restaurants and shops.
Where to stay in popular areas of Cruz Bay
How to Get Around Cruz Bay
Public Transportation
The Vitran Bus System reaches most of the island. Buses leave every 25 minutes from the Cruz Bay ferry dock to Coral Bay and then to Salt Pond Bay. Fares are $1 per person or $0.55 for senior citizens.
Taxi
There is ample taxi service in Cruz Bay, and you'll find a cab stand at the ferry dock. Rates are per person and destination.
Car
There are several car rental agencies in Cruz Bay. Prices range from $65 to $100 a day.
The Cost of Living in Cruz Bay
Shopping Streets
In Cruz Bay, there are shops within walking distance of the dock at Mongoose Junction and Wharfside Village. Duty free retailers carry swimwear, handbags, liquor, jewelry, crystal, artwork, and more.
Groceries and Other
The Calabash Market, open 7 days a week, is a large grocery store. Love City Mini Mart carries general food supplies and Nature's Nook is an open air market with fresh fruit, baked goods, and smoothies. A dozen eggs is $2.95.
Where to Eat in Cruz Bay
ZoZo's Ristorante at Gallows Point Resort features Italo-Caribbean dishes, such as lobster fra diavolo and osso buco with saffron rice. Entrees are priced at $40 and up. Morgan's Mango serves Caribbean fusion cuisine, including Jamaican steak and Haitian voodoo snapper. Entrees average $30.