You're Going to Love Dalat
The French colonial resort town of Dalat is often referred to as "The City of Eternal Spring" for its cool spring weather and "Le Petit Paris" due to its kitsch European architecture. Encased by hills, pine forests, and waterfalls, this premiere honeymoon retreat caters to travelers seeking a refreshing take on Vietnam's treasures.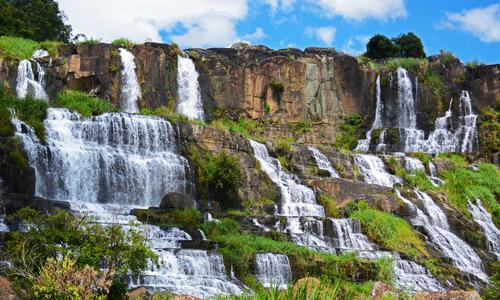 Top 5 Reasons to Visit Dalat
1. Mild Temperatures
Mist blankets the the valleys of Dalat throughout the year, sustaining consistent cool temperatures.
2. Magnificent Waterfalls
Several stunning waterfalls are close by for visitors to explore, and many of them are free with cafes nearby.
3. Historic Pagodas
Intricate Buddhist pagodas line the city, such as Linh Phuoc Pagoda and Thien Vuong Pagoda.
4. Charming French Architecture
Remnants of French colonial villas and the Dalat Railway Station serve as a striking contrast to traditional Vietnamese structures.
5. Stunning Blossoms
Dalat also retains the name of "City of a Thousand Flowers" for its beautiful blossoms, which can be seen at the Dalat Flower Gardens.
When to Visit Dalat
The valleys of Dalat experience two distinct seasons: dry (November to March) and rainy (April to October). The dry season is better for outdoor activities during the spring months.
How to Get to Dalat
Plane
About 30 minutes from the city's center lies Dalat Airport (DLI) on Highway 22. Once you arrive, there are a number of low-cost taxi and shuttle services to help you reach your hotel.
Train
Travelers can catch the train from Saigon Railway Station to Thap Cham Railway Station. From this point, a bus will take you to Dalat at no cost. Another route to take is Saigon Railway to Nha Trang Railway Station. From there, you will catch a Hien An bus to Dalat for approximately ₫295,523.
Car
Travelers may drive with an International Drivers' Permit, but this must be accompanied with local insurance. You can also obtain a temporary Vietnamese driving license, but this requires a valid residence permit. Highway 20 and Prenn Pass are two of the main routes leading to Dalat.
Bus
Ho Chi Minh City, Mui Ne, and Nha Trang all connect to Dalat Bus Station. Note that a free shuttle ride to your hotel is available with a Phuong Trang bus ticket purchase.
Airports near Dalat
Airlines serving Dalat
Show more
Where to Stay in Dalat
There are numerous hostels that enable you to spend as low as ₫113,663 per evening, such as the Dalat Moon Hostel. In contrast, travelers can upgrade to mid-range priced hotels such as the highly recommended Monet Garden Villa or luxurious options such as the Dalat Palace Hotel.
Popular Neighborhoods in Dalat
Xuan Huong Lake - Xuan Huong Lake serves as a hub for easygoing activities along the lake's trail with Bao Dai's Summer Palace residing nearby.
The French Quarter - travelers can survey how wealthier citizens spend their summer vacations by perusing the French Quarter's French colonial villas along Tran Hung Road, southeast of the city.
Langbiang Mountain - Langbiang Mountain is revered for its breathtaking views of Dalat, pine forests, villages, and rivers.
Where to stay in popular areas of Dalat
Most booked hotels in Dalat
How to Get Around Dalat
Public Transportation
The bus network is extensive throughout the city, but the last local bus departs each day at 5 pm. The bus center lies on Khu Hoa Binh Street near Central Market.
Taxi
You can hail a Xe Om (motorbike taxi) for around ₫568,312 per person for a 15-minute ride. Negotiate before you hop onto the bike. Taxi prices are generally ₫227,323 per mile. Watch out for scams and negotiate before use.
Car
You must hold a Vietnamese driving license to drive unless you hold a temporary license and residence permit. However, travelers can rent cars with drivers for approximately ₫1,136,625 for the day.
The Cost of Living in Dalat
Shopping Streets
Shopping is a colorful experience in the city's Central Market, a wonderland where skilled artisans sell a variety of goods until 4 am.
Groceries and Other
Big C in Lam Vien Square will meet your needs as a shopping center full of domestic and imported items. Grocery prices are reasonable, as a gallon of milk and a carton of eggs will cost you roughly ₫159,128.
Where to Eat in Dalat
The food scene in Dalat is rich with street barbecue, hotpots, hotplate dishes, and fried delicacies such as at the popular eatery Goc Ha Thanh on Truong Cong Dinh Street. Coffee and tea are staples in Dalat, made locally and found almost everywhere. While the bar scene is modest, several hangout spots are clustered together around Truong Cong Dinh Street.